January Edition
THE PHIER
" We are what our thoughts
have made us"
Swami Vivekananda
Why do humans dominate the earth? What was the Sapiens' secret of success? How did we manage to settle so rapidly in so many distant and ecologically different habitats? How did we push all other human species into oblivion? Among the answers crafted for these raging questions in the immensely popular book Sapiens: A Brief History to Mankind, the one that stands apart is "Our success is intimately linked to scale". Building an aggressive, outcome oriented, positive and collaborative mindset is the foundation for any big change. Scale and Dominance is a powerful call to break out individualism, small wins, immediate gains and emerge as leaders obliviating all deterrents.We welcome you all to this edition of Phier and 2021-(Year of Scale and Dominance for Cogniphi), commemorating ours CEO's words "Don't settle for what works, settle for what dominates and that which will scale".
Brief & Note
2021-Year  of Scale and  Dominance
The pivotal change that I expect to realise in this dream of "2021 – Year of scale and dominance" is a change in mindset. Building an aggressive, outcome oriented, positive and collaborative mindset is the foundation for any big change and we need to institutionalise this mindset within each one of us. Being focused, being bold, being organised, converging , being positive, being transparent, bidding ego good bye, being collaborative, differentiating feedback from insult etc will automatically come as "Scale and Dominance" is a strong call to break out from these deterrents. For example, don't settle for what works, settle for what dominates and that which will scale. Don't relax with a small win rather scale it to many many more achievements. Everything we do henceforth, we need to wear the 'Dominance and Scale' glasses and course correct our objectives.

So join hands with me and re-plan your year, build new objectives, bake this daring dream into your minds – Together let us make 2021 an year of scale and dominance for Cogniphi – Rohith
PHIERBRAND
World's largest multinational corporation deploys AIVI
AIVI's Contactless Checkout solution is currently being  piloted for the world's largest technology multinational corporation  , headquartered in Silicon Valley. Adding to the excitement is  that we will be piloting a similar product suite for 2 global hotel chains in the USA. The Contactless Checkout solution will be deployed in the cafeteria for identifying multiple food items ranging from burgers, sandwiches, pizza slices, cookies, soups , salads to various packaged items. AIVI will detect and identify the food items picked up by the customers and share the details for Point of Sale(POS)processing.

This Next Gen Touchless AI , will provide the employees and clients of the Tech giant with  safe, easy and fast checkout while reducing  labor cost, boosting sales and loyalty programs for the company. This  project is  really  challenging as  AIVI has to  detect  with accuracy a large set of similar food items with  just slight variations  in  texture, colour and  proportions. An added challenge is that the cafeteria menu keeps evolving  on a regular  basis,  leaving  short windows  for pattern training and  on  board.  We are also  filing  for  a  joint  Intellectual Property with UST for the  product suite, which is expected to have a wide market. With this particular solution we enter a much sought after market, the Food & Beverage industry. 
VisionAI

 featured in Intel Insight Tech
A major milestone for us last year was with UST support, our healthy store and back to work solution got accepted by Intel as a MRS(market ready solution), a major achievement whose dividends will go beyond just the listing in intel website. It has started a new bonding and relation with Intel and their AI @ edge ecosystem. A massive boost for our efforts.

PHIERWORKS
One of the leading causes of workplace injuries is STF – an abbreviation for the three dreaded words, namely Slip, Trip, and Fall. In Australia, there are more deaths from Slips, Trips, and Falls than there are from fires.

If businesses and individuals take the initiative to keep their property safe for customers, other guests, and employees, then they can take preemptive action and prevent these accidents before they happen. This is where AIVI plays a leading role.

52-year-old Rakesh Singh walks into a primary health care center in rural Rajasthan with what seems to be a suspected case of Tuberculosis. After hours of waiting in line, his sputum sample is collected and sent to a lab for a sputum smear microscopy. Days go by but Rakesh's results turn out to be inconclusive

PHIERBELLS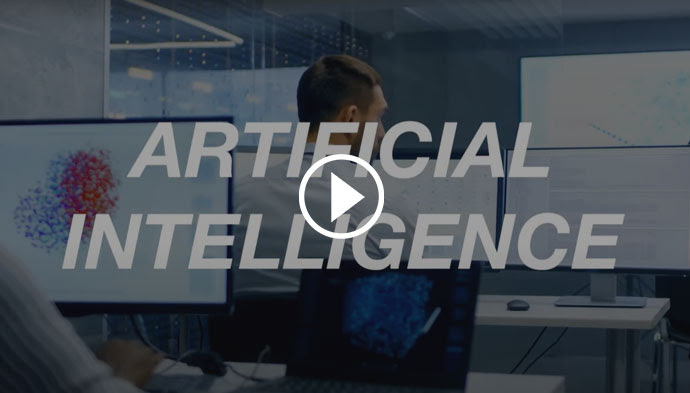 The healthcare industry is rapidly changing, driven by technology and Vision Intelligence. Watch how Cogniphi is revolutionising the healthcare sector.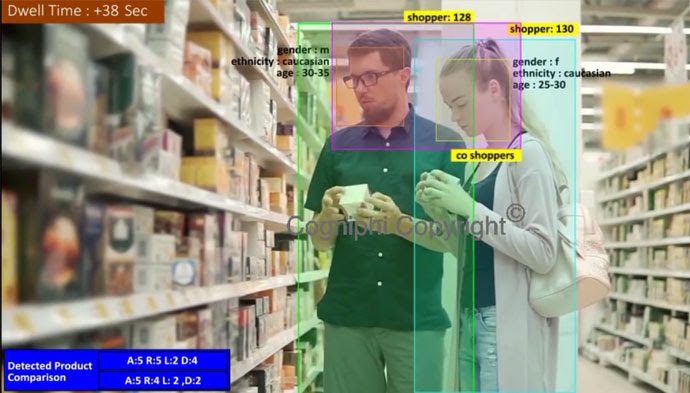 Dwell Time: Dwell time analytics is the metric that helps retailers measure the duration customers spend navigating particular areas of the store.Dwell time lets retailers see the precise location of customers in their stores and the duration they spend staring at or examining a particular good.  AIVI 's dwell time provides valuable behavioural insights based on dwell time that enable retailers to make informed decisions on the layout of the store, the deployment of staff, promotions, and merchandising. 

Get Cogniphied

This is the first in a series of articles on docker, by 

VP,

Sriram. In this article, we aim to introduce the reader to the concepts of containers and some of the benefits they offer. Subsequent articles will focus on deep dive into the usage and technologies underlying Docker and its ecosystem.


Top 10 Data Science tools over time:
Data Science has proven to be a boon to both the IT and the business. The innovation incorporates acquiring value from information, understanding the data and its patterns

Learning Kubernetes the kindergarten way
Kubernetes & React Native Are The Fastest Emerging IT Skills, as reported by most of the popular tech magazines in Dec2020. We all enjoy stories. So how about learning Kubernetes the kindergarten way. Read this series on Kubernetes. If you have kids tag them along, you won't regret it. After this read Kubernetes basics will be literally child's play

PHIERPLACE
Group Insurance for Cogniphi members and family
For an established company , a medical insurance smight be norm or an expected part of the package A start up faces numerous hurdles and challenges over things that come easily across for a Tier 2 company. We had faced something similar with procuring medical insurance. Over the course of years we have supported ourselves , the less fortunate members of our family in times of need. It is with utmost happiness we welcome the Group Medical Insurance , a hard earned effort from our HR team.
Each morning, you emphatically write at the top of your to-do list, "Work on presentation!" Perhaps you even underline it a time or two for emphasis. But at the end of the day, your resolve has turned to dismay: yet again, you spent most of your time in meetings.

Hakuna Matata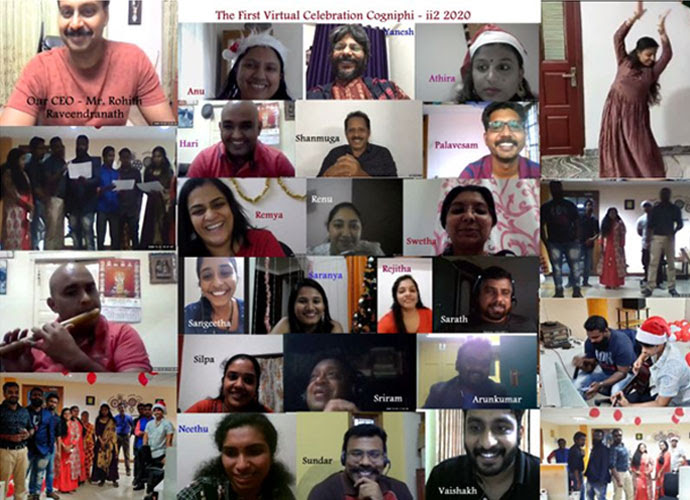 We winded up a month long # Stay Connected campaign with wonderful virtual get-together. Fun, games and a bit of leg pulling, what a rocking way to kick off New Year. In case you have not yet seen it, our Team at II2 also did a ramp walk. Read More

Congrats to the Winners of the Celebration
Team Avengers (Saranya,Johny, Palavesam, Neethu, Naveen,Renu & Rejitha ) winners of "Aliens have landed"

Anu Abraham and family (Best Christmas photo),

Beno,Christo, Neethu and Saranya (Best Dressed) and HariPrakash(Connections game)

Special mention to Sarath, Athira, Hari, Sundar , Arunkumar ,Team II2 for their wonderful performances.
New Cogniphiers

Rejitha Geetha has joined as Technical Writer.She has prior 7 years experience. Her life goal is to achieve more heights in my career and give her parents an amazing and happy life.



Neethu Nadh has joined as Sr. UI / UXDesigner . Neethu has 7 years experience and is from Kochi.Her hobbies are reading books, traveling, drawing, riding scooters and photography.
PHIERSIGHT
I am no engineer, not a management guru, nor a marketing expert. I am just the eternal optimist. I always think the best is just around the corner.I always think the best is just around the corner. That is the reason I never got despondent with 2020. The tunnel was long and dark

.



Until next edition, Sayanora!!

www.cogniphi.com
Copyright © 2021 Cogniphi Technologies Pvt. Ltd. All rights reserved.
Click here to unsubscribe.